Polypipe Underfloor Heating Manifold & Ancillaries (All Floor Types)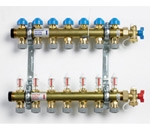 At TDL Online we have a massive selection of Polypipe Underfloor Heating Manifold and Ancillaries in stock and available at great low prices with immediate dispatch.
The Polypipe underfloor heating manifold is connected to every pipe in your underfloor system, allowing you to control the flow of the system in each room if required.
All of our Underfloor Heating Manifold products have a 25 year manufacturer warranty and are compatible with all underfloor types.
Have you seen the same Polypipe underfloor heating manifold or Polypipe Ancillaries on sale elsewhere for cheaper? We have a massive selection of Polypipe products in stock and can price match any reputable  retailer.
Browse our Polypipe Underfloor Heating Manifold & Ancillaries: