Immersion Heaters & Cylinder Fittings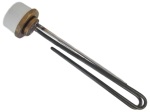 At TDL we have a massive selection of Immersion heater element and cylinder fittings in stock and available with speedy delivery.
Our Immersion heater element range comes in a multitude of different sizes, helping us to accommodate the needs of most households.
Browse Our Immersion Heater Element Range...