Polypipe Modular Heating Panel
T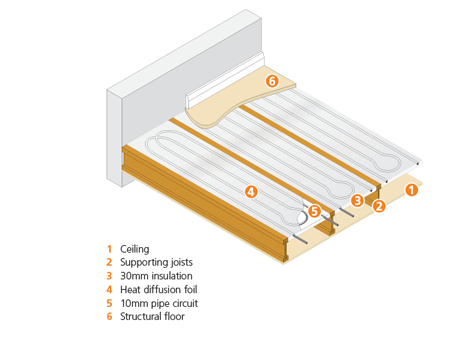 he new range of Polypipe Modular Heating Panels offer a quick and simple underfloor solution to those with suspended floors in new build properties or working on renovation projects.
If you are looking to introduce underfloor heating to a suspended floor that has obtrusive supporting floor joists, then Polypipe Modular Heating Panels could be just what you have been looking for.
If you use Polypipe Modular Heating Panels (also known as Polypipe MHP) then you can help to overcome this as the panels already come configured with the components you need. You then just install your new panels in the gaps that already exist between the joists, connect the panels together and connect this to a standard heat supply onsite. This makes the whole process quick and easy.
Working with both traditional and engineered joists, Polypipe Modular Heating Panels  works and can be fitted from above or below.
Browse our range of Polypipe Modular Heating Panels